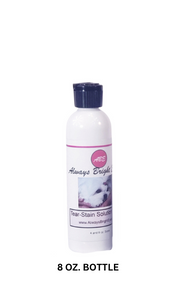 Always Bright Eyes
Always Bright Eyes Refill Liquid - Large Size 8oz.
Regular price
$34.95
Sale price
$45.00
Unit price
per
This is our Always Bright Eyes Tear Stain Remover liquid -
This is a refill for the set.
It is intended to be used along with our tear stain remover powder to achieve the desired results.
We realize that at times you may use more powder than liquid or have liquid left over and be out of powder. We are making individual products available to meet these needs. 
This is the 8 oz size - Twice the amount and save $10.00
Always Bright Eyes is an amazing, one-of-a-kind tear stain removal product.
It is a 2-step system. The first step is cleansing under the eye with the all-natural liquid, which contains an all-natural herbal formula that works to eliminate bacteria and yeast at its source.
The second step is an all-natural powder that helps keep the eye area dry and prevents the re-growth of the bacteria that can cause staining.
The powder contains two unique drying agents that work together to dry, exfoliate and lighten the area under the eye. An all-natural herbal ingredient that has antibacterial properties helps to prevent bacterial growth.
Always Bright Eyes Is:
Topically applied, not ingested. Made with natural human-grade ingredients. Non-irritating, Safe, and easy to use. Safe for kittens and puppies. Works for all light-coated breeds!
---
Share this Product
---